High Speed Band Saw
(50 - 5200 FT/MIN)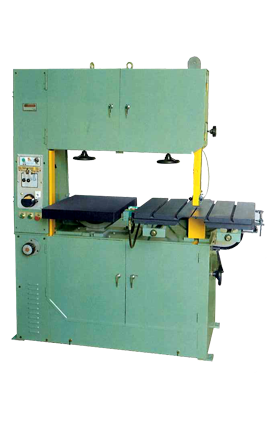 High Speed Band Saw, Variable Speed, Enlarged Speed Range
V-4012-H (HYDRAULIC TABLE)
SPECIFICATION
in. (mm)
Throat Depth
39-3/8"(1000)
Work Height
12"(304)
Blade Width
1/8"thru 1"(3 thru 25)
Blade length
194-7/8"(4950)
Bandwheel Dimensions
17"×1-3/4"(430×44)
Bandwheels Number
4
Wheel Tires
Easily Replacable Rubber Tires
Table Type
Hydraulic Powered
Main Table Size
26-3/4"×29"(679×736)
Auxiliary Tabla Size
26-3/4"×18-7/8"(679×477)
Table Tilt
15° R, 15° L
Table Workheight
40-1/8" (1019)
Blade Drive Motor
4 H.P.
Electric Controls
Mag Motor Starters, 115 Volt Controls
Blade Speed
50-5200 fpm(15-1575 mpm)
Transmission
Totally Enclosed
Blade Welder, Grinder, Shear
1"Capacity, Standard Equipment
Table Stroke
13"(330)
Dimension:
Length
70-1/2"(1790)
Width
44-7/8"(1138)
Height
75"(1905)
Net Weight
2750 Lbs(1250 Kgs)
STANDARD FEATURES:
115V control circuit, motor overload and under volt protection, chevron blade guides 1/16" up to 1", blade tension, variable blade speed 50-5200 SFPM (15-1575 MPM), rip fence, chip blower, blade welder, grinder, shear & digital speed meter.
FEATURES:
Enlarged speed range: 50-5200 ft/min (15-1575m/min).
Infinitely variable speed.
Blade welder, grinder and shear are front mounted for quick, accurate blade repair and installation.
Maintenance-free airpump provides air to remove Chips from the point of cut.
Digital blade speed indicator.
Blade tension indicator.
Totally enclosed transmission.
TEFC 3 phase motor.
Rip fence is equipped.
Heavy duty cast iron table.
Magnetic, low volt controls.
Brush for cleaning lower drive wheel.
The upper wheel could be adjusted for band tensioning.
Motion of work table is controlled by stepless speed controller (Hydraulic powered only).
Work table with auto stopper (Hydraulic powered only).
Work table may take speedy reverse movement (Hydraulic powered only).