High Speed Band Saw
(50 - 5200 FT/MIN)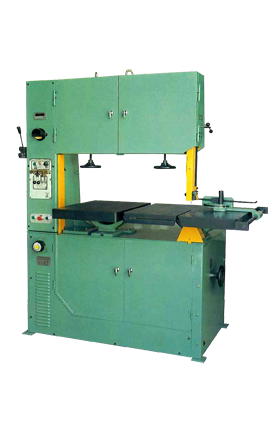 High Speed Band Saw, Variable Speed, Enlarged Speed Range
V-4012-F (FIXED TABLE)
SPECIFICATION
in. (mm)
Throat Depth
39-3/8"(1000)
Work Height
12-3/8"(314)
Blade Width
1/8"thru 1"(3 thru 25)
Blade length
194-7/8"(4950)
Bandwheel Dimensions
17"×1-3/4"(430×44)
Bandwheels Number
4
Wheel Tires
Easily Replacable Rubber Tires
Table Type
Fixed
Main Table Size
26-3/4"×29"(679×736)
Auxiliary Tabla Size
26-3/4"×18-7/8"(679×477)
Table Tilt
45° R, 15° L
Table Workheight
40-1/8"(1019)
Blade Drive Motor
4 H.P.
Electric Controls
Mag Motor Starters, 115 Volt Controls
Blade Speed
50-5200 fpm(15-1575 mpm)
Transmission
Totally Enclosed
Blade Welder, Grinder, Shear
1"Capacity, Standard Equipment
Dimension:
Length
70-1/2"(1790)
Width
42-1/2"(1079)
Height
75"(1905)
Net Weight
2596 Lbs(1180 Kgs)
SANDARD FEATURES:
115V control circuit, motor overload and under volt protection, chevron blade guides 1/16" up to 1", blade tension, variable blade speed 50-5200 SFPM (15-1575 MPM), rip fence, chip blower, blade welder, grinder, shear & digital speed meter.
FEATURES:
Enlarged speed range: 50-5200 ft/min (15-1575m/min).
Infinitely variable speed.
Blade welder, grinder and shear are front mounted for quick, accurate blade repair and installation.
Maintenance-free airpump provides air to remove Chips from the point of cut.
Digital blade speed indicator.
Blade tension indicator.
Totally enclosed transmission.
TEFC 3 phase motor.
Rip fence is equipped.
Heavy duty cast iron table.
Magnetic, low volt controls.
Brush for cleaning lower drive wheel.
The upper wheel could be adjusted for band tensioning.