Vertical Bandsaw with Stationary Table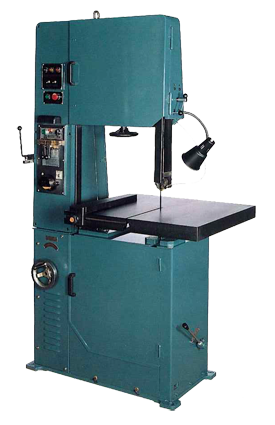 Vertical Variable Speed Bandsaw with Stationary Table
MODEL 500
SPECIFICATION
mm (in.)
Height Under Guide
360mm
14-1/8"
Throat, Band to Column
500mm
19-5/8"
Blade Speed
25-456m/min
82-1496ft/min
Blade Width
3-25mm
1/8"-1"
Blade Length
4055mm
159-5/8"
Size of Table
740×680mm
29-1/8"×26-3/4"
Tilt, Main Table
15° R, 15° L
15° F, 15° B
Motor
2HP
Machine Size
1210×730×2050mm
47-5/8"×28-3/4"×80-3/4"
Net Weight
600kgs
1320lbs
Ship Weight
700kgs
1540lbs
Packing Slze
1310×880×2200mm
51-1/2"×34-5/8"×86-5/8"
STANDARD FEATURES/ACCESSORIES:
Blade welder, shear. grinder, work light, blade guides, chip blower, cleaning brush, infinitely variable speed, rubber bonded saw wheels, thermal overload switches, rip fence, 110 volt control & lighting.
OPTIONAL ACCESSORIES:
Circle Cutting Attachment
Miter Gauge
STANDARD MACHINE FEATURES:
Infinitely variable speed.
The band tension is cushioned.
Blade welder and grinder are front mounted for quick, accurate blade repair and installation.
Interchangeable rubber bonded saw wheels.
Brush for cleaning lower drive wheel.
Manintenance-free airpump provides air to remove chips from the point of cut.
The upper wheel could be adjusted for band tensioning.
Hand wheel controlled speed.
Adjustable saw blade guides.
Machine light is fitted.
Change speeds while the machine is in operation, without stopping, without pulley changes.
Cast iron frame to minimize machine vibration.