Miter Saw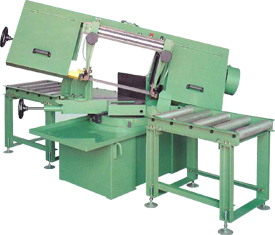 For Straight And Angle Cutting
12" MITER SAW
MS-1218 / MS-1218S
TECHNICAL DATA
in. (mm)
CAPACITY 90°:

●

12"(304.8mm)

■

12"×12"(304.8×304.8mm)

▂

16"×10"(406.4×254mm)or 18"×6"
 (457.2×152.4mm)
CAPACITY 45°:

●

8"(203.2mm)

■

8"×8"(203.2×203.2mm)

▂

8"×12"(203.2×304.8mm)
SAWBLADE LENGTH:
136.8"(3475mm)
MOTOR:
2 HP
SPEED RANGE:
Four Speed, 50Hz. :56, 154, 246, 328FPM(17, 47, 75, 100 MPM)
Four Speed, 60Hz. :69, 184, 295, 394FPM(21, 56, 90, 120 MPM)
Variable Speed, 50Hz. :56-269 FPM(17-82 MPM)
Variable Speed, 60Hz. :69-321 FPM(21-98 MPM)
BLADE WHEELS:
15.4"(391MM) DIA. Flanged Cast Iron.
FLOOR SPACE:
61"×51"(1550×1300mm)
NET WEIGHT:
880LBS(400KGS)
GROSS WEIGHT:
1078LBS(490KGS)
MACHINE DIMENSIONS:
74.80"(1900mm)L×29.13"(740mm)W×40.16"(1020mm)H
PACKING SIZE:
6.69'(2040mm)L×2.95'(900mm)W×3.77'(1150mm)H
COOLANT PUMP:
0.125HP
OPTIONALS:
INFEED 19"×40" AND OUTFEED 19"×27" STOCK ROLLER TABLE WITH LEGS.
*illustrations and specifications are not binding to details as improvements are incorporated from time to time.
STANDARD MACHINE FEATURES:
0°-45° MITER CUTTING, MAKE ANGLE CUTS WITHOUT SWINGING LONG STOCK.
2HP MAIN DRIVE WITH MAGNETIC STARTER AND OVERLOAD PROTECTION.
0.125HP COOLANT APPLICATION THROUGH BOTH GUIDES.
SOLID CARBIDE BLADE GUIDES WITH ROLLERS.
QUICK POSITION VISE.
AUTOMATIC SHUT-OFF DEVICE TO ON-OFF CONTROL.
TOTALLY ENCLOSED TRANSMISSION.
BLADE CLEANNING BRUSH.
CAST IRON TABLE.
1" WIDE BLADE.
STOCK STOP.
HEADCONTROL IS HYDRAULIC CYLINDER OPERATED BY NEEDLE VALVE.
QUICK AND SIMPLE SPEED CHANGE.
EASILY ADJUSTED HEAD FEED.